New Year 2023!
Come along and join out small group personal training sessions.... in just 8 weeks you can feel fitter, healthier and stronger. Our sessions are fun and energetic in a relaxed and friendly atmosphere.
Whatever your goals, we can help you to...
Lose weight
Improve fitness
Improve physical health
Improve mental wellbeing
Increase your energy levels
Improve confidence
Feel stronger
Create a healthy lifestyle
All sessions will take place in our private personal training studio in Chelmsford. There is a maximum of 6 people per group so you will receive a lot of personalised help and support. We will teach you how to exercise effectively using the correct technique. You will also receive nutrition help and support and we set goals to keep you focused and motivated.
The sessions are 55 minutes long and are at the following times: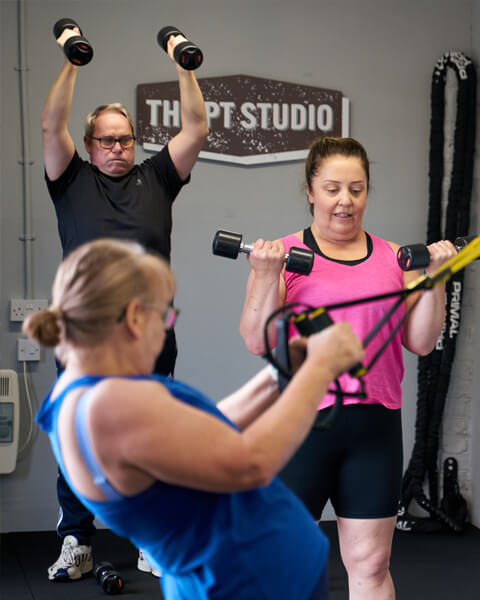 Monday at 7pm
Tuesday at 7:30pm
Wednesday at 7:30pm
Thursday at 8pm
Saturday at 8:30am
The prices of the 8-week programme are:
1 session a week - £120
2 sessions a week - £224
3 sessions a week - £312
Places are limited so please contact me NOW to reserve your place
Here is what our clients say...
I have really enjoyed my first set of 8 small group sessions. I only intended this as a kickstart but I have signed up for a further block. We receive constant support and encouragement throughout the week. I have been going gym for some years and even though I enjoy the classes I have fallen into a rut. I feel the small groups are much better. - Julie
I've been coming to the group training sessions for a while and I love the training I get here. All the trainers are so supportive and know how to get the best out of me during my workouts. They also have great advice on nutrition and have helped me change my habits and loose weight. The trainers are so willing to give help and advice outside of the weekly session and help keep me motivated by posting workouts, recipe ideas and tips on our what's app group. In the last 8 weeks I've lost almost a stone with the help and support of my trainers. I feel stronger, healthier and happier. I honestly can't recommend this studio enough!! - Kirsty
I have been a client for the last few years now and can honestly say it was the best decision I've ever made. I started by doing 2 one to one PT sessions a week now have moved on to two group sessions a week. All the trainers are so kind with great sense of humor so every session is filled with laughs and positive attitude which motivates you to work out even harder. Very professional coaching and definitely will help you to achieve your fitness goals! As it is a private studio you feel more comfortable while training and have flexibility when booking your sessions! Would Definitely book in if you're looking to train with a personal trainer in private. Everyone is so welcoming!! - India
Me and my twin sister joined because of reasons such as, not feeling confident and comfortable at a gym. Ever since we joined we have gained confidence, muscle and progress. Not only are the trainers lovely and welcoming they also are incredibly helpful and focused on helping you meet your targets by coming up with fun exercises by using the range of equipment provided. I recommend this studio as the sessions are very personal to my needs and goals and they make me feel happier, excited and motivated for for my future. - Immy
The eight-week programme has really changed my mindset and approach to exercise. Laura is great at keeping you motivated and it's a hugely supportive environment. Already signed up for a further eight weeks. Highly recommend! - Chloe
Places are limited so please contact me NOW to reserve your place