Energy Balls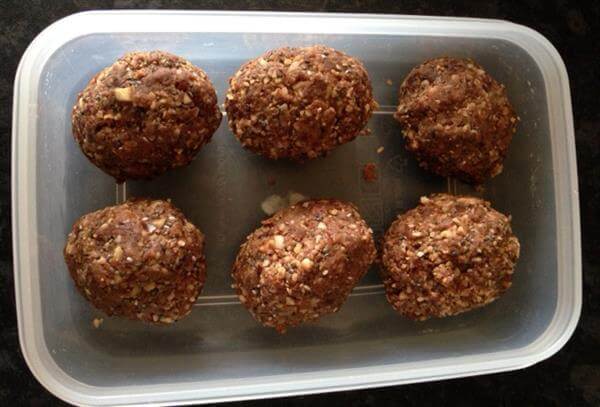 Energy Balls
These are great healthy snacks and very quick and easy to make!
Category: Snack
Prep Time:
Yield: 12 bars
Diet Suitability: Vegetarian, Guten-Free
1 cup of Medjool dates (or pitted dates having been soaked in boiling water for 30 minutes)
3/4 of a cup of almonds
3/4 of a cup of walnuts or any other nut
2 tablespoons of chia seeds
2 tablespoons of ground flax seed
1 tablespoon of coconut oil
1 tablespoon of hemp protein powder (optional)
1 tablespoon of raw cacao powder
Method
Start by placing the almonds, walnuts, ground flaxseed and chia seeds in your food processor. Blend for 1 minute, until the nuts have crumbled.
Then add the dates and the other remaining ingredients. Blend for another minute until a sticky dough forms.
Use your hands to roll the mixture into little balls, place them in a container and store them in the fridge.
Nutritional information will differ depending on the exact ingredients used and even the manufacturer or brand of certain ingredients. So please take this just as a guide, and remember that snacks are always best eaten in moderation!
Nutritional Information

per Ball
165 kcal
11g fat
9g carbohydrate
9g sugar
4.6g protein
3.7g fibre
0.02g salt