Healthy Cereal Bar Recipe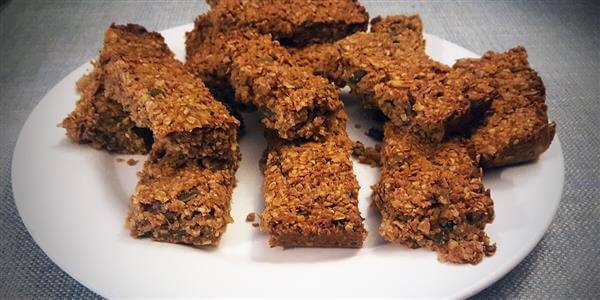 A lot of snacks you can buy in the shops are stuffed with excess sugar. Not great if you're trying to eat healthily or lose weight! But having a snack available to you is often beneficial, especially post work-out if your next meal isn't for a while.
Try this healthy alternative to shop-bought cereal bars. It's really simple to make, and leaves you in control of your sugar intake.
Category: Snack
Prep Time:
Cook Time:
Yield: 12 bars
Diet Suitability: Vegetarian, Low-Sugar, Guten-Free, Low-Lactose, Low-Calorie
Method: Baking
Ingredients
2 cups / 180g of gluten-free porridge oats
4 tbsp / 50g of almond / cashew / hazelnut butter
50g of organic butter
1 banana
3 tbsp of Manuka honey
80g of mixed seeds (sunflower / pumpkin / flax seeds etc)
30g of mixed nuts (walnuts / flaked almonds etc)
Zest of one orange and lemon (optional)
Coconut oil (for lining baking tin)
Method
Pre-heat oven to 160 C.
Melt butter, nut butter and honey in large saucepan.
Mash banana and add to saucepan.
Once the mixture is melted, take off the heat.
Add oats, seeds, nuts, lemon and orange zest and mix together.
Place baking paper into baking tin and grease with coconut oil.
Place mixture into tin and spread evenly, 1 inch thick.
Place in the oven for 30-40 minutes, until crispy.
Remove from oven and allow to cool.
Remove from baking tin and cut into 12 equal bars.
Nutritional information will differ depending on the exact ingredients used and even the manufacturer or brand of certain ingredients. It's also very difficult to measure exactly how many grams a tablespoon of honey is! So please take this just as a guide, and remember that snacks are best eaten in moderation, no matter how healthy they are.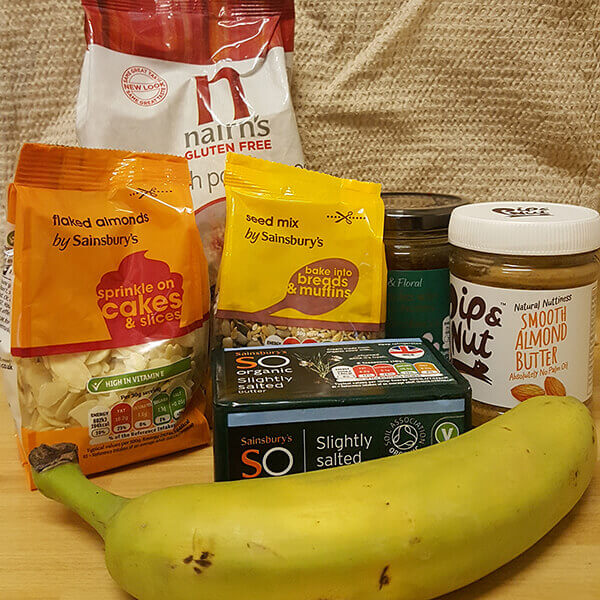 Nutritional Information

per Bar
120 kcal
10g fat
3g carbohydrate
2g sugar
3.5g protein
0.8g fibre
0.1g salt