Low-Carb Pancake Recipe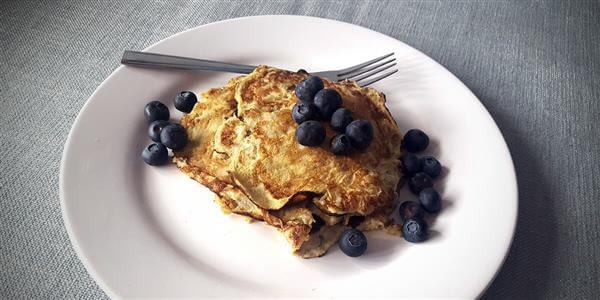 Pancake Day is almost here! Many people look forward to their annual pancakes but if you're trying to lose weight or eat more healthily, traditional pancakes made with flour might not fit into your diet. You don't need to miss out, however, as we've created a delicious and healthy pancake recipe that uses bananas instead of flour.
Category: Breakfast, Dessert
Prep Time:
Cook Time:
Yield: 4 Pancakes
Diet Suitability: Vegetarian, Low-Lactose, Low-Calorie
Method: Frying
Ingredients
1½ large bananas, ripe to overripe
2 eggs
⅛ teaspoon baking powder
Butter or coconut oil (for frying)
Blueberries or other berries, to serve
Method
In a mixing bowl, crack in the eggs and add the baking powder. Whisk to combine.
In another bowl, add in 1½ lightly-mashed ripe bananas. Leave some chunks of banana as this results in fluffier pancakes.
Pour eggs into the mashed bananas and stir to combine.
In a frying pan, heat some butter or coconut oil.
Add 1-2 tablespoons of batter to the frying pan to form a mini pancake and cook over a medium-low heat for about 1- 2 minutes.
Flip the pancake over and cook for up to one minute more.
Serve immediately with blueberries or other berries.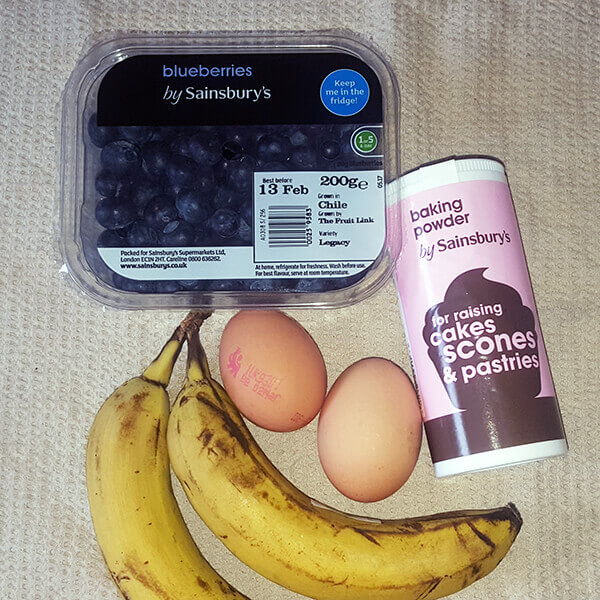 Nutritional Information

per Pancake

without toppings
45 kcal
2.5g fat
1.9g carbohydrate
1.6g sugar
3.6g protein
0.1g fibre
0.3g salt