Carrot, Coconut and Raisin Bites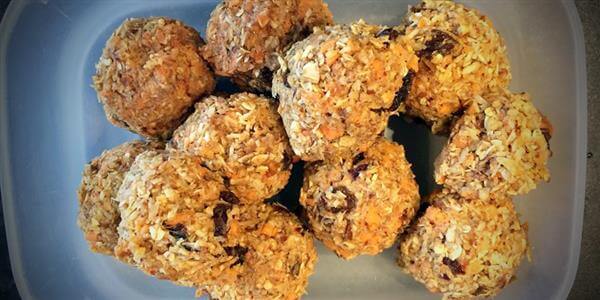 These are a perfect snack and they are very tasty!
Category: Snack
Prep Time:
Cook Time:
Yield: 12
Diet Suitability: Vegetarian, Low-Lactose, Low-Calorie
Method: Blend and Chill
Ingredients
75g / 3oz pitted dates
100ml / 4 fl oz boiling water
50g / 2oz pecans
50g / 2oz desiccated coconut
100g / 4oz carrots, pealed and grated
½ teaspoon mixed spice
30g / 1oz raisins
2 tablespoons sunflower oil
50g / 2oz porridge oats
A pinch of salt
Method
Put the dates in a saucepan with the boiling water. Cover with a lid, bring to the boil and simmer for 2 minutes, then remove from the heat and set aside for 5 minutes.
Put the pecans in a food processor and blitz until finely chopped, then set aside
Put the soaked dates and 2 tablespoons of the soaking liquid in the processor. Blitz until smooth, then add the remaining ingredients, including the chopped pecans. Blitz again briefly, until the mixture has come together but it still coarse
Shape the mixture into balls, place the balls on a plate and chill them in the fridge for at least an hour before eating. Keep the balls in the fridge.
Nutritional information will differ depending on the exact ingredients used and even the manufacturer or brand of certain ingredients. So please take this just as a guide, and remember that snacks are best eaten in moderation, no matter how healthy they are.
Nutritional Information

per Bite
125 kcal
8.6g fat
9.5g carbohydrate
7g sugar
1.3g protein
2g fibre